Yess!! ?
Baku win ??#VB77 #F1 #F1Baku@MercedesAMGF1
? @JanErikOlin pic.twitter.com/q8QiRZvTul— Valtteri Bottas (@ValtteriBottas) April 28, 2019
Complete results here: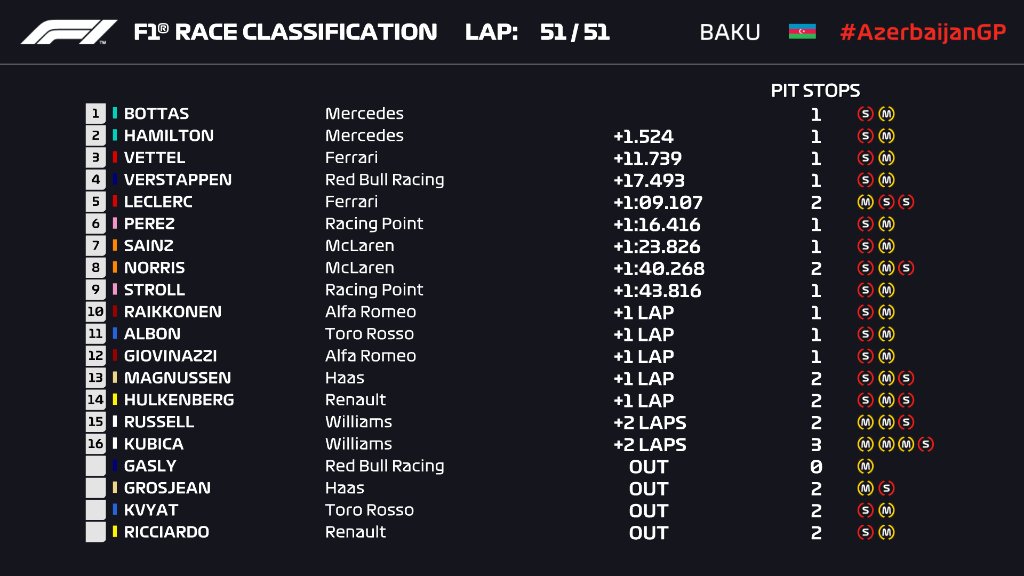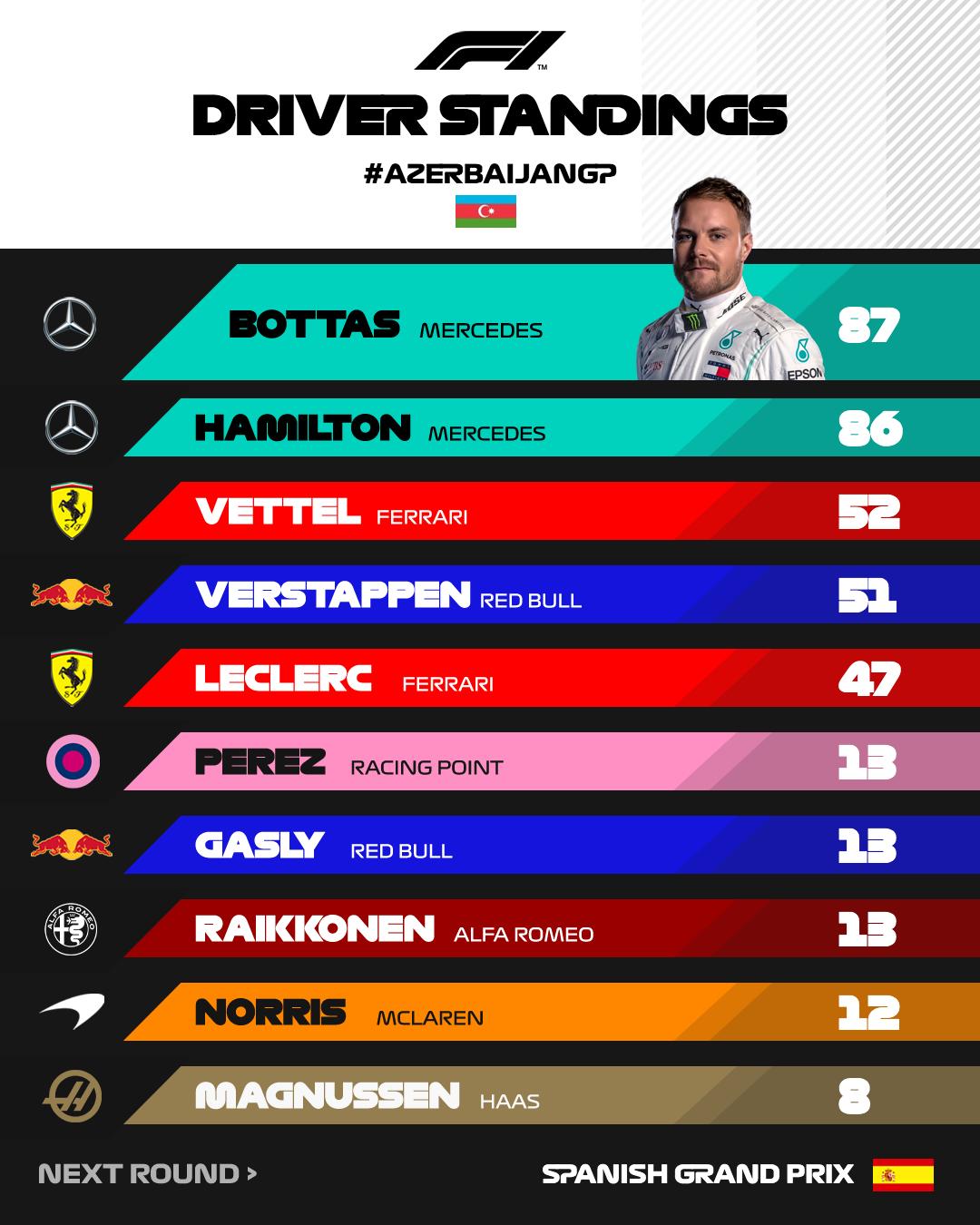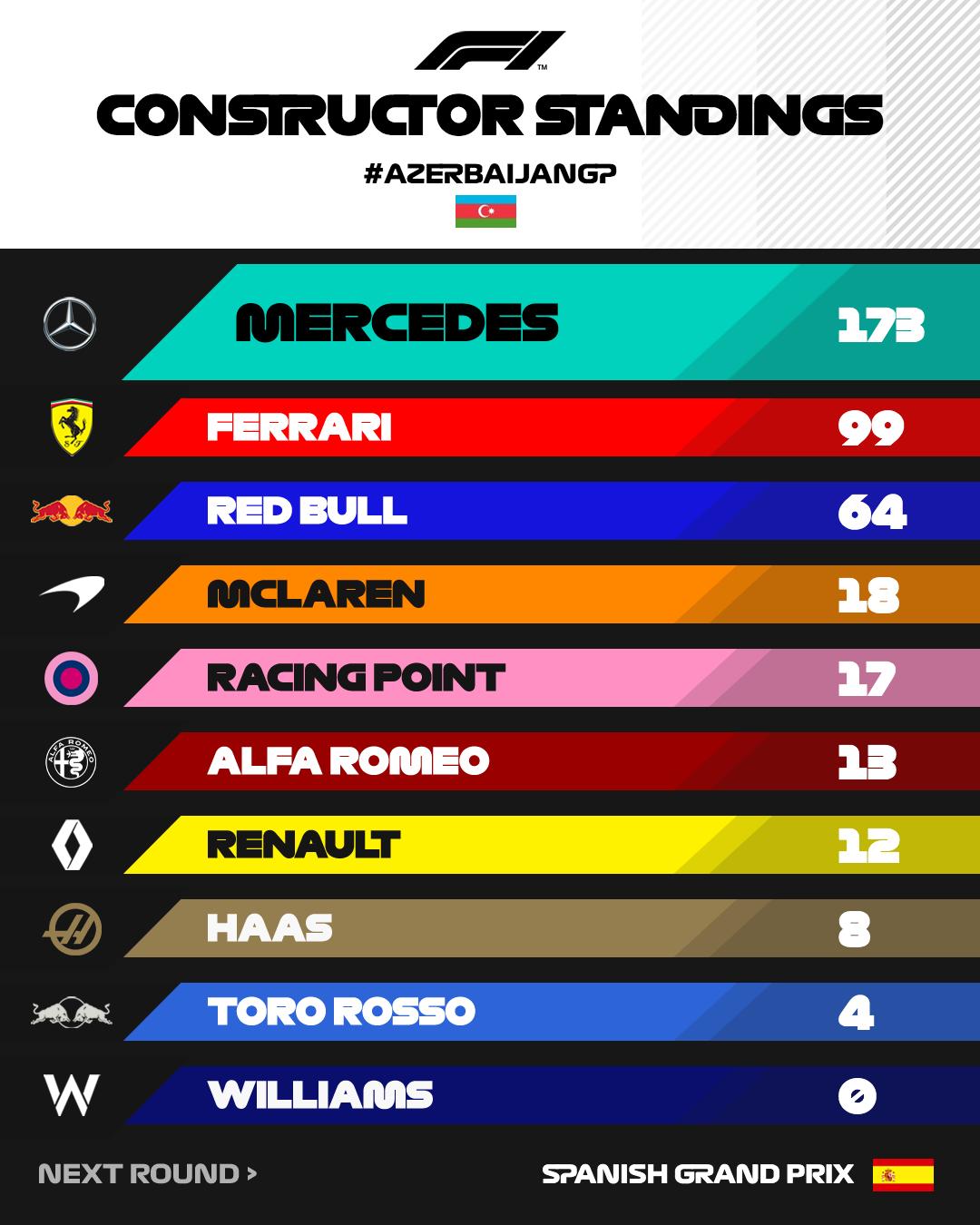 Valtteri Bottas leads from pole to victory in what turned out to be a rather indifferent race, to be honest. Hamilton gave him stiff competition throughout but the ice-cool Finn held his nerve. With this win, he regains the top spot in drivers standing by a lead of 1 point. It looked promising for Leclerc but Ferrari kept him out for too long which compromised his race. Vettel never really came close enough to challenge the Mercedes.
So it meant another 1-2 for Mercedes who extend their lead to 75 points at the top. It is a really stiff mountain for Ferrari to climb from here. They can certainly do with a better strategy though. It was a good day for McLaren though, with both drivers finishing in points. Same for Racing point with Sergio Perez finishing P6 and Lance Stroll coming P9. The last point was grabbed by Kimi Raikkonen, who had to start from pit lane as the team was found guilty of front-wing infarction.
Renault and Haas had another abysmal outing. Daniel Ricciardo involved a rather embarrassing incident with Daniel Kvyat, while reversing from one of the run off areas. He had overshot his car while braking which caused Kvyat to stop right behind him. He then reversed to get back on track, only to find Kvyat still stalled behind him and rammed into the Toro Rosso, causing them both to retire. Guess the social media fire Danill would have had to face for causing such an incident?
Now we move onto Spain, which last year was a bore fest, so I am not getting my hopes very high. We love F1 and we will continue to watch it, but the interest is waning and spectacle isn't getting any better.